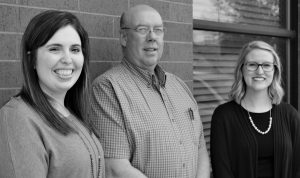 On a list of things most people want, you're likely to find good medical care. But it's something everyone
needs.
Coddington Medical Family Practice, LLC, was founded by Dr. Tim Sullivan in early 2014, and since then it has seen thousands of patients, conducted many thousands of appointments, and has earned excellent notices across the social media spectrum for its quality of care. It isn't a huge place, and it doesn't compete with hospitals. It's a primary care clinic devoted to the best treatment in Lincoln, with a personal touch for all of it, and it's made a name for itself doing just that. But before it was an operational clinic, it was just a dream. Dr. Sullivan has been practicing medicine for 30 years. He was born in Grand Island but raised on the family farm in Doniphan, Nebraska, graduating from the local high school in 1979. From there, he attended the University of Nebraska-Lincoln, graduating in 1982 with a degree in biology and a pursuit of medical practice. This drive led him to attend the University of Nebraska Medical Center, where he earned his M.D. in 1986. He started at Thayer County Health Services in Hebron, Nebraska in 1989. While practicing in a hospital in a small town, Dr. Sullivan learned the ins and outs of mainstream medical practice and patient services. During this time, he formulated his own ideas for the clinic he'd run and how he'd run it, and the branches of services that would be offered, especially to those patients often underserved by conventional hospitals and clinics. He believed in providing more, and jumped at the opportunity to do it in a larger community like Lincoln that could benefit from small town care.
Click here for more information about Dr. Sullivan
This dream became reality in 2014 when CMFP opened its doors. The offices are attached to a Complete Children's Health in the Coddington and West A neighborhood. Coddington Dental is in the same lot. The area has the advantage of a Russ's Market with a pharmacy nearby. Those filling prescriptions from CMFP don't have to go far. The area is home to many families, all of whom are well-served by close, convenient medical care. CMFP is open to many insurances, including Medicare and Medicaid. The staff number has always been small, which makes for a close-knit team. There are always at least two mid-level providers on staff, two x-ray technologists for the in house x-ray machine, several nurses, a care coordinator, and a receptionist to handle the many incoming calls and appointments. The clinic can do all standard checkups, vaccines, lab work, and standard primary care procedures.
Click here for a full listing of all the services offered at Coddington Medical
The way forward for CMFP is to always be better at what it does, to expand, and to grow with the needs of its diverse patient base. The company stays lean and agile in its use of technology and infrastructure, and changes with the times to meet all needs. Though it started as a primary way to reach the Coddington neighborhood, it now encompasses patients from all over Nebraska. And the quality of care is always present in everything it does.
Click here to read the Health Grades reviews for Dr. Tim Sullivan
This blog will be updated weekly to reflect not only the company and its culture, but also the medical field and the culture of care in general. It will cover any topic that fits with the mission, but also branch out to touch on things of broader care interest. The blog is part of CMFP's vision of enhanced care for patients by giving them a free repository of online education. We want all our patients to be healthy, informed, and 100% satisfied with their experiences. We hope you stay tuned here for the future.